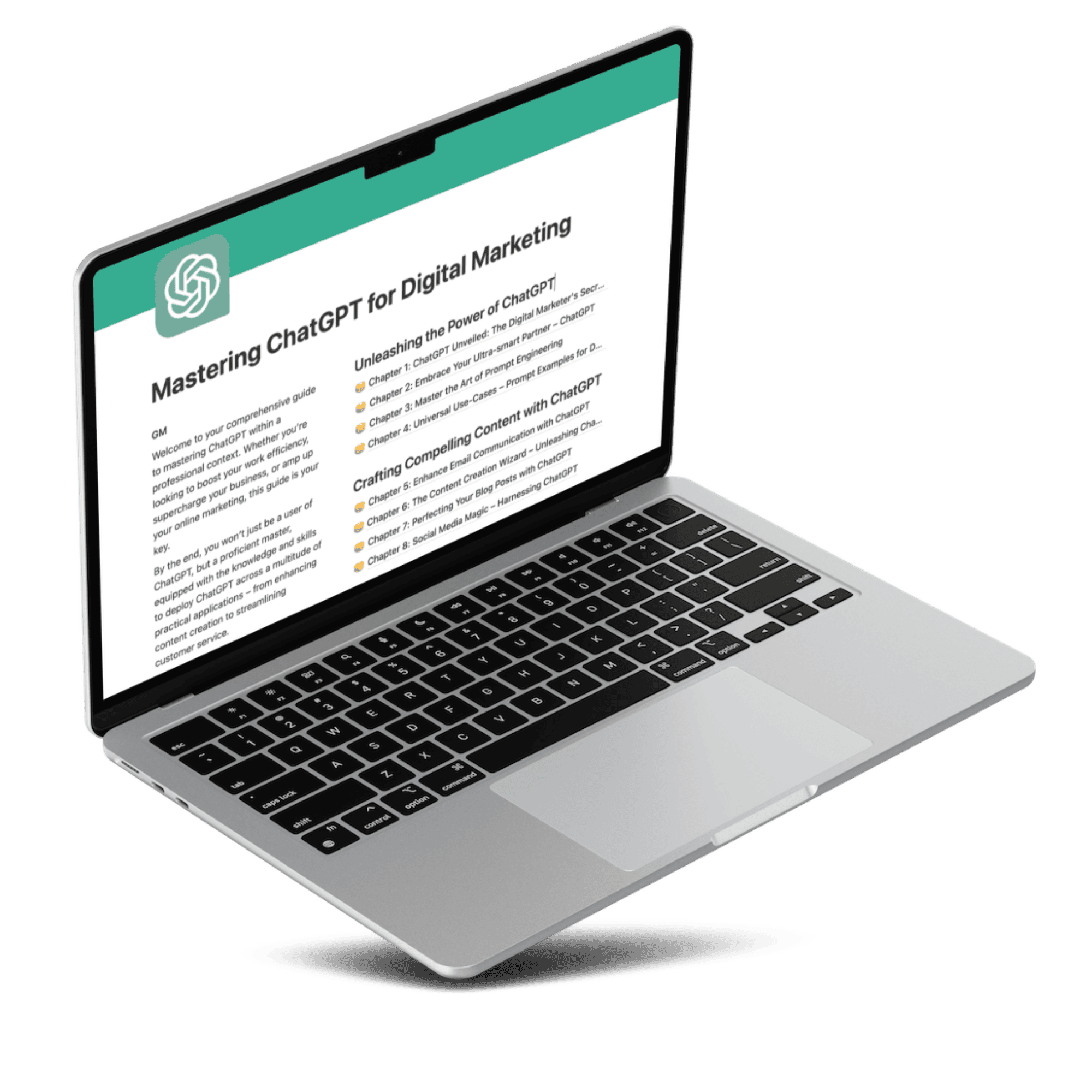 Mastering ChatGPT for Digital Marketing
| Comprehensive Guide
19 Comprehensive Chapters Designed to Transform Your Digital Marketing Skills
19 Chapters
Real world applications
Digital marketing examples
Ready to use templates
Lifetime Access
100+ ready-to-use prompts
This is a practical course. Once completed, you will immediately be able to apply your new skills.
Start Mastering ChatGPT Now
50$ Promo $25
Discover how ChatGPT can transform your marketing strategy and drive results
Get ready to conquer the digital world with ChatGPT, your key to exceptional productivity and innovative marketing strategies.
This isn't just a guide; it's your toolkit for command over powerful applications from content creation to customer service.
Packed with practical examples and versatile prompts, the power of ChatGPT is truly at your fingertips.
MASTER CHAT GPT
MASTER CHAT GPT
MASTER CHAT GPT
MASTER CHAT GPT
MASTER CHAT GPT
MASTER CHAT GPT
MASTER CHAT GPT
MASTER CHAT GPT
MASTER CHAT GPT
What you'll learn
Artificial intelligence will not replace you. The person who uses AI will.
🥞 Unleashing the Power of ChatGPT
Chapter 1: ChatGPT Unveiled: The Digital Marketer's Secret Weapon
Chapter 2: Embrace Your Ultra-smart Partner – ChatGPT
Chapter 3: Master the Art of Prompt Engineering
Chapter 4: Universal Use-Cases – Prompt Examples for Daily Tasks
🥞 Crafting Compelling Content with ChatGPT
Chapter 5: Enhance Email Communication with ChatGPT
Chapter 6: The Content Creation Wizard – Unleashing ChatGPT's Creativity
Chapter 7: Perfecting Your Blog Posts with ChatGPT
Chapter 8: Social Media Magic – Harnessing ChatGPT
🥞 SEO and E-commerce with ChatGPT
Chapter 9: Newsletters Redefined with ChatGPT
Chapter 10: A Dynamic Duo – ChatGPT and SEO
Chapter 11: Powering Your Paid Ads with ChatGPT
Chapter 12: Transforming E-Commerce with ChatGPT
Chapter 13: Revolutionizing Customer Service with ChatGPT
🥞 Strategic Marketing Mastery with ChatGPT
Chapter 14: Creating Comprehensive Marketing Plans with ChatGPT
Chapter 15: Brainstorming and Decision Making – The ChatGPT Way
Chapter 16: ChatGPT – Your Data Analysis and Reporting Assistant
🥞 Advanced Techniques and Troubleshooting
Chapter 17: Optimizing ChatGPT Responses for Better Results
Chapter 18: Mastering Advanced Techniques with ChatGPT
🥞 Wrapping Up and Looking Beyond
Chapter 19: Conclusion – Your Journey Forward with ChatGPT
Bonus Chapter: Your Quick-start Guide: 100 Copy and Paste Prompts
As seen in

What People Are Saying
Always well-explained and easy to read. I have forwarded it to the entire team.
Why Choose Mastering ChatGPT for Digital Marketing?
Gain a Competitive Edge:
Stay ahead of the curve by mastering ChatGPT, the ultimate tool for digital marketers. Learn how to leverage its capabilities to streamline your workflow, create compelling content, optimize SEO and e-commerce strategies, and make data-driven decisions.
Supercharge Content Creation:
Unleash your creativity and achieve unparalleled content excellence. From enhancing email communication to perfecting blog posts, our guide will empower you with ChatGPT's creative prowess, helping you captivate and engage your audience like never before.
Drive Organic Traffic and Conversions:
Become an SEO powerhouse with ChatGPT by your side. Redefine newsletters, elevate your search engine optimization, power your paid ads, and transform customer service. Witness the exponential growth of organic traffic, boost conversions, and deliver exceptional customer experiences.
Unlock Strategic Marketing Mastery:
Elevate your strategic marketing game to new heights with ChatGPT as your trusted companion. Craft comprehensive marketing plans, brainstorm innovative ideas, and leverage ChatGPT for data analysis and reporting. Unleash your marketing genius and leave competitors in the dust.
Advanced Techniques and Troubleshooting:
Dive deep into advanced techniques and troubleshoot any challenges along the way. Optimize ChatGPT responses for optimal results, master advanced strategies, and explore the full potential of the ChatGPT API. Push boundaries and take your digital marketing prowess to unparalleled heights.
100% Money Back Guarantee
If this course did not improve your digital marketing skills, we'll refund you. No questions asked.
FAQ
Frequently Asked Questions (FAQ)
1. What is "Mastering ChatGPT for Digital Marketing"?
This is an online course designed to help digital marketers understand and utilize ChatGPT to its fullest potential. It covers various areas including content creation, SEO, e-commerce, and strategic marketing.
2. Who is this course for?
This course is for anyone interested in improving their digital marketing skills, particularly those who want to learn how to harness the power of ChatGPT to automate tasks, optimize SEO, and drive conversions.
3. Do I need any prior knowledge of ChatGPT to take this course?
No, this course is designed for all levels. We start from the basics and gradually move to advanced techniques and strategies.
4. What will I learn in this course?
You will learn how to effectively use ChatGPT for various digital marketing tasks, from enhancing email communication to crafting comprehensive marketing plans. The course includes real-world applications, examples, and ready-to-use templates.
5. How long does the course take to complete?
The course is self-paced, meaning you can take as long or as short as you want. Each individual chapter can be completed at your convenience.
6. How long will I have access to the course?
Once purchased, you have lifetime access to the course.
7. How much does the course cost?
The course costs $49, and it includes lifetime access to all the materials, plus a bonus chapter with 100+ ready-to-use prompts.
8. What if I'm not satisfied with the course?
We offer a 100% money-back guarantee. If you feel that the course did not improve your digital marketing skills, we'll refund you, no questions asked.
9. How can I enroll in the course?
To enroll, click on the 'Enroll Now' button on our landing page. After payment, you will receive instant access to the course.
10. What kind of support is available after I purchase the course?
After purchasing the course, you'll have access to our dedicated support team who can assist with any issues or answer any questions you may have about the course content. Simply reply to the confirmation email and we'll get back to you within 24 hours.
Remember, enrolling in "Mastering ChatGPT for Digital Marketing" is an investment in your digital marketing future. Don't hesitate to join the countless digital marketers who have already benefited from this course.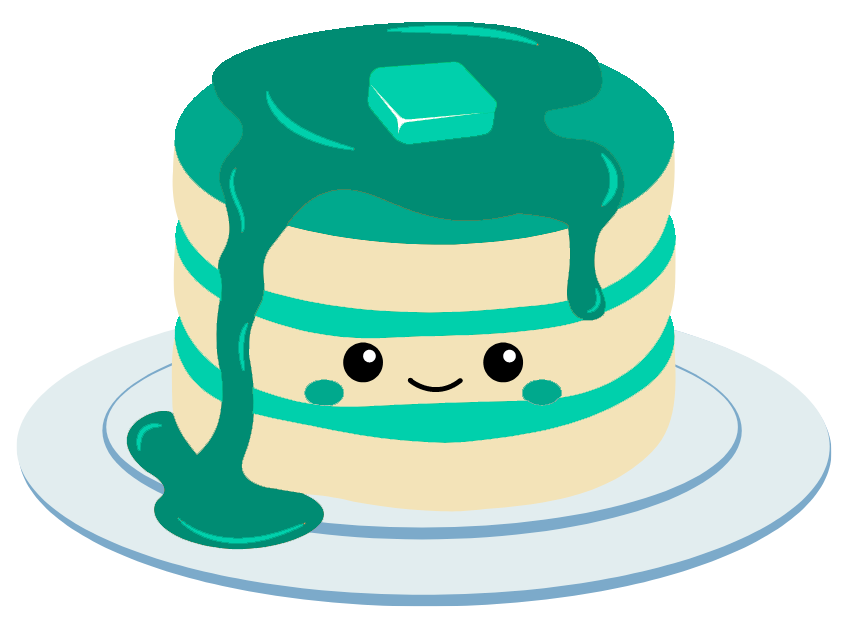 Enroll Now and Master ChatGPT for Digital Marketing!
Join countless digital marketers who have already unlocked the power of ChatGPT and witnessed remarkable transformations in their businesses. Don't miss this opportunity to gain a competitive edge, captivate your audience, and drive exceptional results.
Start Mastering ChatGPT Now
$50 Promo $25